Discovery Cruise 3 Nights (Year – Round)
4 days / 3 nights
Discovery Cruise 3 Nights (Year – Round)
DAY 1 | MEKONG RIVER – PHNOM PENH – CAMBODIA
---
Welcome our 3-night passengers over custom sundowners like the Salted Watermelon Crush with Thai basil. Together we celebrate the onward journey towards the heart of this mighty river with a Khmer Apsara performance, an indigenous tradition memorialized on the temple walls at Angkor Wat.
---
DAY 2 | MEKONG RIVER – KA´OM SAMNOR – VINH XUONG BORDER CROSSING – CHAU DOC – MY AN HUNG – VIETNAM
---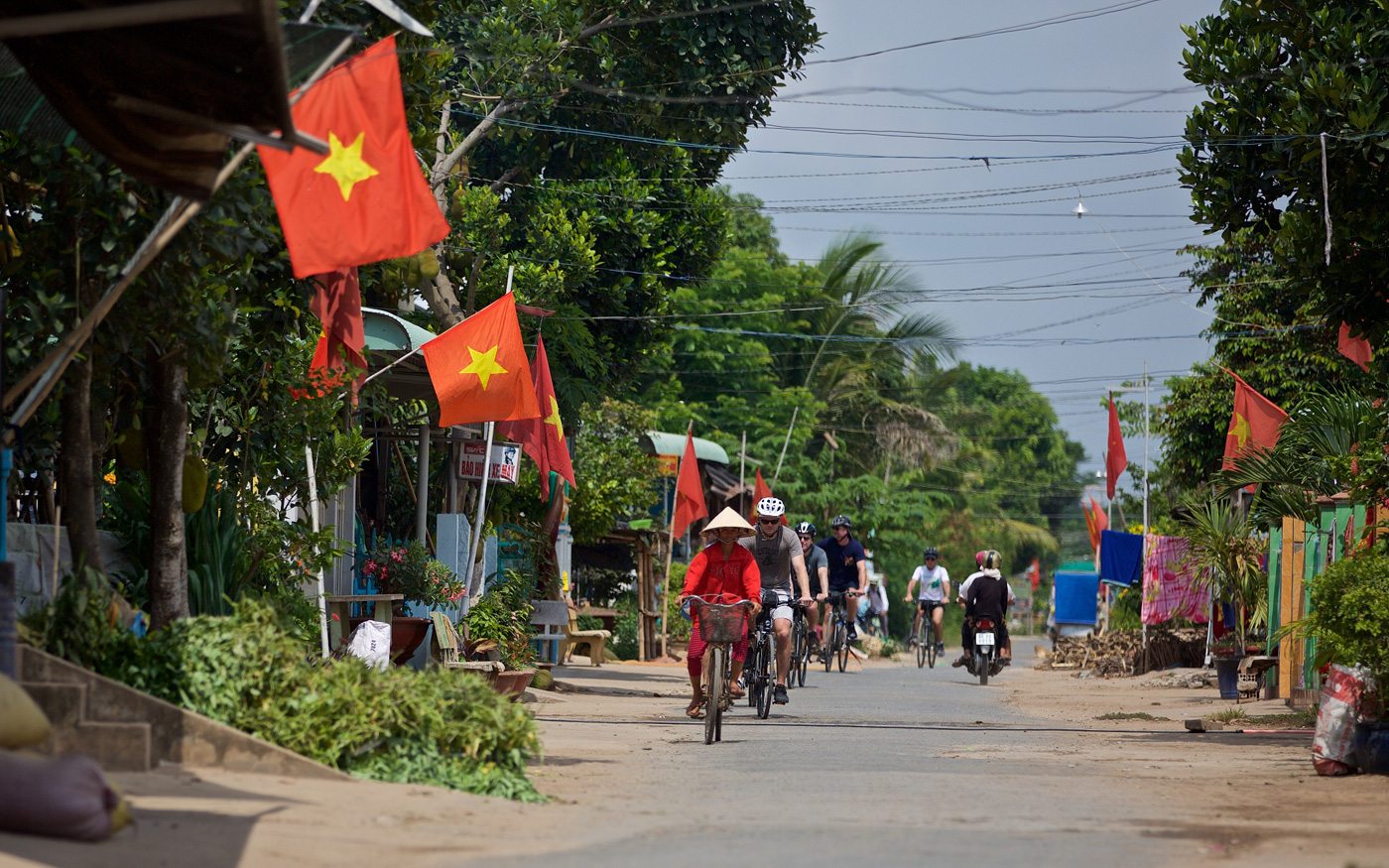 Say 'Good Morning, Vietnam' while we cross the border and sail towards Tan Chau, a vibrant border town where we take the local rickshaw called xe loi for a trip around town or pedal 18 kilometers on the peaceful island of Long Khanh. In the afternoon, we visit a typical Mekong Delta village called My An Hung where we will walk through verdant plantations. We will be invited to a local's home to taste local fruits while hearing traditional folk songs performed by villagers, followed by a unique Unicorn dance. Biking option is also available for those who wish to explore on wheels.
---
DAY 3 | MEKONG RIVER – BINH THANH/SA DEC – CAI BE – VIETNAM
---
Begin the day at Binh Thanh mat weaving village or opt to visit Sa Dec where we will peruse the vibrant market and see the famous house of Marguerite Duras' legendary lover, Mr. Huynh Thuy Le. We continue downstream for Cai Be, zigzagging in our sampan past lone fishermen on their long tail boats. Later, our skiffs moor at a wooden pier. Here in Cai Be, walk or bike ride among high-roofed open courtyard houses, some dating back more than 100 years, and currently inhabited by gracious locals who will invite us to glimpse their property.
---
DAY 4 | MEKONG RIVER – MY THO – HO CHI MINH – VIETNAM
---
Disembarkation. En route to Ho Chi Minh, we stop at Vinh Trang Pagoda, one of the largest Mahayana Buddhist temple in the region. You will notice the mixed architectural style and see three large buddha statues plus an impressive collection of bonsai trees.
---
---